EZ Hampers hopes you had a brilliant Christmas! That Santa brought you everything you wanted and that you ate the most delicious food. With the year almost over and 2023 quickly approaching, we've been reflecting on the fantastic year we've at EZ Hampers and the growth we've made as a company. In the spirit of the New Year, we decided to set ourselves four New Year's resolutions, to ensure that EZ Hampers flourishes even more in 2023!
​
Our New Year's resolutions for next year are: 
To continue our sustainability journey

– Our first New Year's resolution for 2023 is to ensure we're 100% plastic-free in our gift hamper packaging. We've already made changes to our packaging, by sourcing plastic-free clear wrap for gift baskets, and biodegradable tape. As always, we will continue to handcraft each of our hampers using biodegradable cardboard boxes or reusable wicker baskets. We will also research further ways to ensure we are as eco-friendly as possible!

To make more links to other small businesses

– Another one of our key resolutions as a business is to make even more connections with local businesses that align with our company ethos. We plan to further develop relationships with businesses that are kind to the planet and people, facilitated by networking groups such as South Manchester Business Network, Manchester Business Network, FM North, Network B2B and Altrincham and Sale Chamber of Commerce. 

To get certified

– In the new year, we plan to join the Greater Manchester Good Employment Charter, spearheaded by Manchester City Council and Andy Burnham. EZ Hampers is also on track to achieve our B Corporation certification, to ensure our business is held to the highest of standards.

To focus on our branding-

We've made leaps and bounds with establishing EZ Hampers this year, including trademarking our business logo! In 2023, we want to develop our business further by strengthening our current branding. We plan to invest in new advertising material that better reflects our values as a company. EZ Hampers also plans on cultivating our branding by working more closely with like-minded charities such as Dogs4Rescue. 
Staff's New Year's Resolutions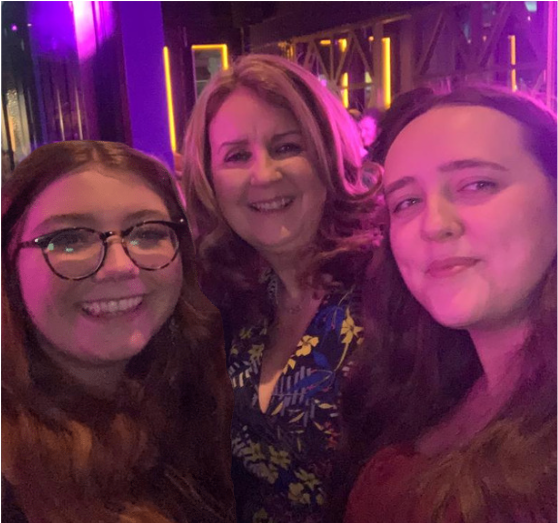 (EZ Hampers out at their Christmas Party where they went Axe throwing! From left to right Gabby, Lisa and Erin)
​
As well as our business goals for next year, we also wanted to share our own personal New Year's resolutions with our readers! We asked each member of EZ Hampers what their resolution for the coming year was, and here's what they said:
Lisa
" My New Year's resolution is to travel abroad more. I'd love to go to Bali in 2023, as I've been waiting to go since lockdown!"
Erin
"My New Year's resolution is to be more adventurous with trying new foods, when cooking for myself."
Gabby
"My New Year's resolution for 2023 is to read more books! My goal is to read at least 12 books in 2023."
What's your New Year's resolution for 2023? PS: Keep a look out for our next upcoming blog post on Veganuary 2023 if your New Year's resolution is to eat healthier or to go vegan!