At EZ Hampers, we're committed to sourcing products that are not only of exceptional quality but give back to communities. We believe that gift-giving is  about spreading joy and also about making a positive impact on the world. That's why we're proud to partner with brands that share our values and incorporate their products into our gift hampers. This blog introduces our supplier spotlight part 1. 
This week, we wanted to spotlight some of the innovative and sustainable brands we work with. Each day, we're going to be interviewing two of our suppliers. They will tell us, in their own words, a little bit about what makes their products and business so fantastic. To kick off our Supplier Spotlight Week, we spoke to Bettyhula, and Popcorn Shed. These two brands have been absolute staples in our gift hampers since day one. Based in Yorkshire, Bettyhula are a sustainable, cruelty-free company with a focus on tropically scented beauty products. Their products are perfect for even the most sensitive of skin types. Popcorn Shed are a gourmet popcorn company that focuses on inventing unique (but also tasty!) flavours and vibrant packaging. 
1.  Who is your target audience? 
"Bettyhula appeals to a broad audience, though its core is the 35 to 60 female who is conscious about her environment and what she puts on her skin. We also have a strong following of people who have sensitive and dry skin from our Secret Range. Then finally we attract the 'I want something a bit different' gift buyer!"
2.  What does your company do?
"We manufacture a range of skincare products in the heart of Yorkshire."
3.  What is the essence of your service/product/company?
"Our range has a tropical theme to it, with our signature scents taking you away to a Hawaiian beach. Our packaging has a retro feel to it too."
4.  What is your USP (unique selling point)?
"A multi-award winning range of vegan, natural and eco-conscious skincare products with a tropical twist that's made in the UK."
5.  What pain does your offering solve?
"We solve people's gift quandaries with our beautiful gift sets, and quirky packaging in general. We also help to solve peoples dry skin problems as a lot of our products contain natural, nourishing ingredients that feed and soothe skin."
6. Do any of your profits go to charity and do you have a sustainable plan? 
"We give monthly to 2 charities: Macmillan, and The British Heart Institute. We also donate stock to local good causes. Like everyone, we are working to improve our sustainability at Bettyhula. Our biggest progress has been to move from standard plastic tubes, to getting fully certified for changing our tubes to being manufactured from sugarcane."
7. Anything else you would like to add?
"Think that's it for now!"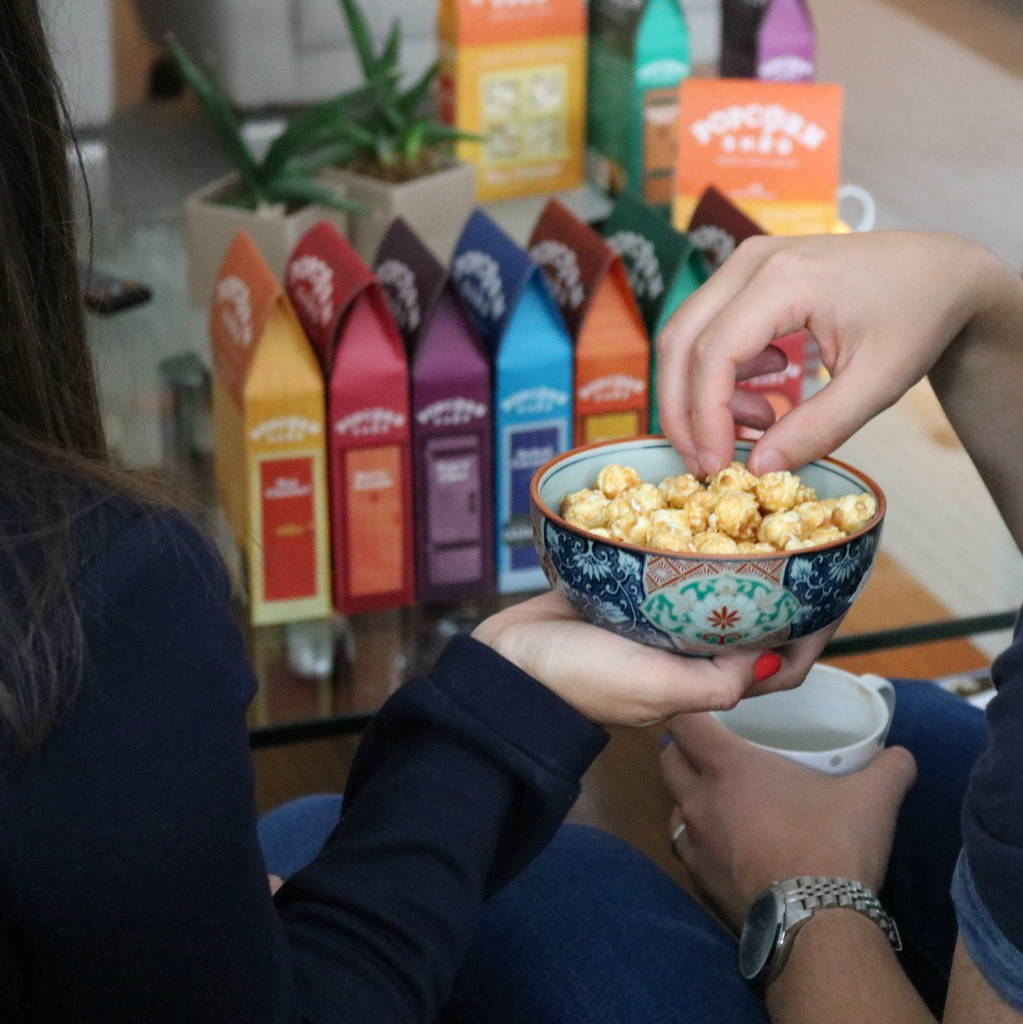 1.  Who is your target audience?
"Popcorn Shed's target audience consists of two demographics: affluent females in the age group 25-34, interested in food and lifestyle, and families with young kids and adventurous taste buds."
2.  What does your company do?
"Popcorn Shed creates luxury gourmet popcorn in a variety of unique flavours and pack formats. From signature popcorn 'sheds' and portion sized snack packs to luxury gift tins and DIY popcorn kits, our small family business offers something for every single taste bud, lifestyle and occasion."
3.  What is the essence of your service/product/company?
"Creating sharing moments and new memories through delicious snacks and beautiful gifts."
4.  What is your USP (Unique Selling Point)?
"Popcorn Shed is always on the front foot in terms of flavour innovation and creating new and unique flavours we know our customers will love. The business has a big variety of products that fit specific dietary requirements to cater to the needs of every popcorn lover. Of the brand's 31 flavours, 90% are vegetarian, 39% are vegan and 87% are gluten free. Popcorn Shed pride themselves on our beautiful pack designs and unique shapes and sizes, making sure the products are eye-catching and jump off the shelf. From a garden shed to where Popcorn Shed is now, the business has a story that's worth telling. This makes the customer not just buy a product, but a story and an experience they can share with their own loved ones. 
Popcorn Shed makes a fresh batch of caramel or cheese paste with every production run, and uses high quality, non-GMO corn, to create the best tasting, freshest and crunchiest corn. Aside from a fresh caramel or cheese base, the brand uses textural ingredients to make the popcorn different from what you've ever tried before. From creamy Belgian chocolate to crunchy nuts to freeze dried fruits, these delicious additions enhance the flavour experience and mouthfeel of all the products. All popcorn is made by hand in the United Kingdom and is not mass-produced, which you can see, smell and taste in every bite."
5.  What pain does your offering solve?
"Popcorn has been powder coated, boring and uninspiring with the same old sweet and salty flavours for years. Even though it's such a versatile snack with endless possibilities, these are not being used. Popcorn Shed have reinvented the popcorn snack and has premiumised it to create a whole new gourmet category within the food landscape. Popcorn is no longer a grab-and-go snack for the cinema, but can be enjoyed at a new level as a giftable product and innovative snack. No matter the wishes, demands or dietary requirements, Popcorn Shed have created a luxury treat for everyone to share and enjoy."
6. Do any of your profits go to charity and do you have a sustainable plan?
"Popcorn Shed does not have a year-round charity partner to donate profits to, but regularly picks a charity to donate profits or products to for a certain amount of time. For example the business donated a percentage of all profits generated in Pride month last year to GiveOut, a charity supporting the LGBTQ+ community affected by the war in Ukraine.
Popcorn Shed endeavours to use sustainable ingredients and packaging wherever possible. Where possible, the business sources ingredients from the UK to reduce the carbon footprint. At the moment, over 80% of all ingredients are sourced from the UK. All of the factory food waste is supplied to a local farm who use it to feed their cattle and lambs. This is how Popcorn Shed minimise waste and help feed the animals that provide some of the ingredients. The factory's electricity is supplied from 100% renewable sources. The brand also has a close relationship with a number of state-of-the-art packaging suppliers, with whom the brand frequently test packaging options that are better for the environment. They do this to ensure we keep working towards a more sustainable future."
7. Anything else you would like to add?
"Popcorn Shed have capabilities to develop flavours in-house, and have a close relationship with the factory, making the business capable to fulfill customer requirements and custom requests with ease. From bespoke flavours or packaging to big orders to multiple addresses worldwide, nothing's too crazy!"