We're wishing our blog readers a fur-bulous World Cat Day 2023! World Cat Day was first launched in 2002 by the International Fund for Animal Welfare in order to raise awareness for cat welfare and protection (Click here to find out more). However, the annual event also gives us the chance to celebrate our cute kitties and the special bond we share with them each year. World Cat Day allows us to paws and reflect on the many joys cats bring to our lives every day. These captivating creatures have lived alongside humans for centuries and have been worshipped by different civilisations across the globe, often representing good luck and protection. Modern research also shows that having a cat as a pet can have positive effects on wellbeing, such as reducing our anxiety, stress and loneliness levels. 
Even at EZ Hampers, we're completely smitten with kittens! Earlier this year, Lisa and Erin adopted their two new fur babies, Poppy (left) and Rose (right). As well as becoming an integral part of the family, Poppy and Rose are now the unofficial mascots of EZ Hampers (Sorry Beetrice!). 
​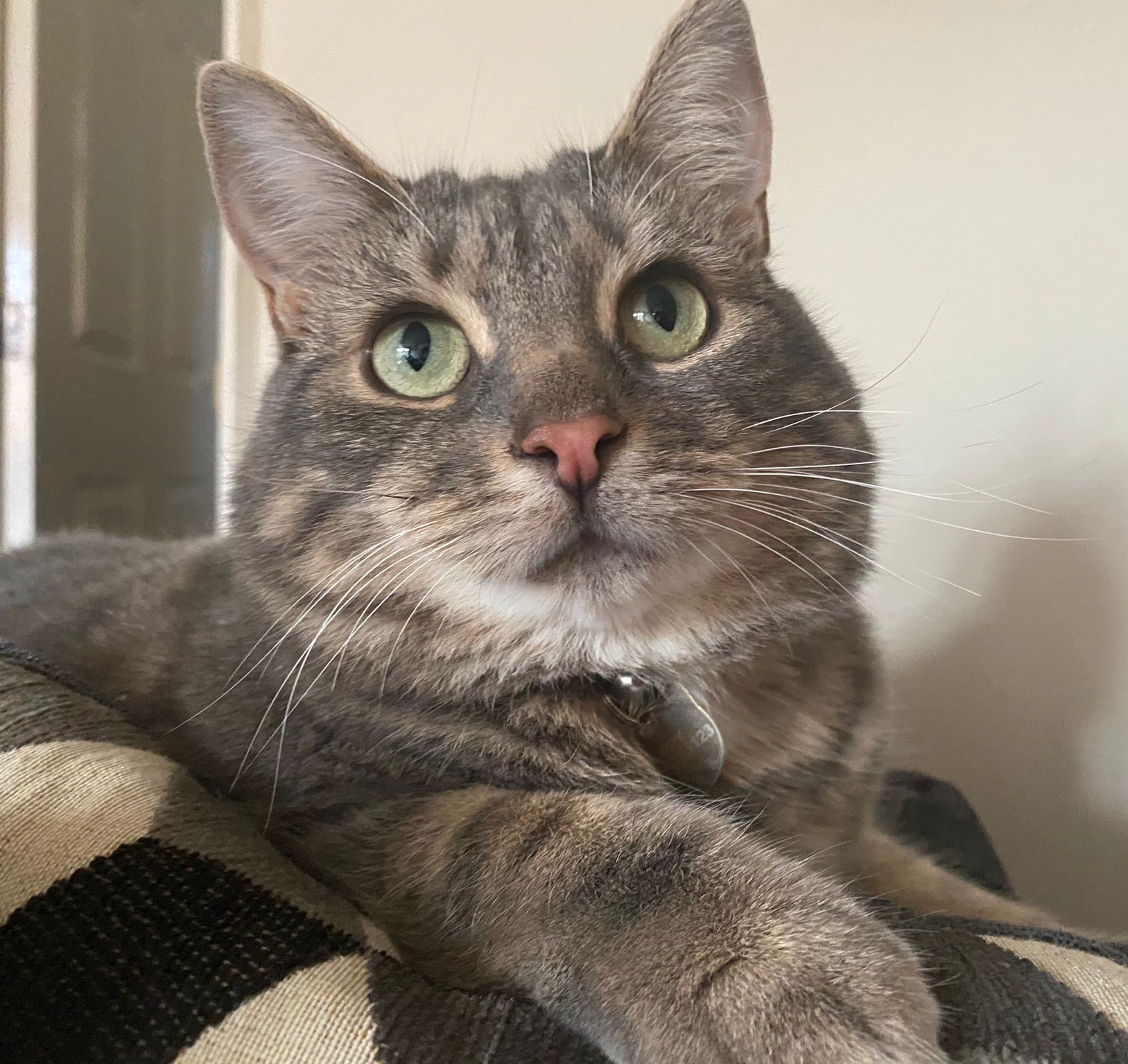 Our love of moggies doesn't stop at our own cats, it also extends to our desire to provide claw-some hampers to cats and the cat-obsessed across the UK! Whether you're looking to treat your furry feline, or simply treat yourself or another cat lover, EZ Hampers can curate the purrrfect gift for you! Our hampers are designed to bring smiles, happiness, and purrs of contentment, no matter the budget. From gourmet treats to charming cat-themed goodies, we have something for every cat person and their whiskered companion. Explore below our current collection of hampers for you and your furball: 
Did you know?:
Most archaeologists believe that cats probably domesticated themselves more than 10,000 years ago when they realised they could get an easy meal by staking out Neolithic storerooms and farms for the rats and mice that were attracted to human settlements. Which made them a desirable creature to keep around.
World Cat Day 2023 Hampers
Purrfect Cat Lover Hamper
Know someone who loves cats? Or do you love cats and want to treat yourself? Get an exclusive Cat Lover Hamper for someone and their purrfect pal.
Two Jingling Play Balls for Cats
Playful Pets Cat Wall Plaque
Playful Pets Cat Themed Mug
x2 Persie Pusscat Vodka (5cl) Ve, GF – Pusscat Vodka is a premium unflavoured vodka at 45% vol. It has a clean and round velvety mouthfeel, with faint hints of fresh herbs and a tiny pinch of black pepper. The finish is silky and incredibly smooth – just like a pusscat. Persie supports Edinburgh Dog & Cat Home by donating £1 per bottle to help rescue and rehome lost, stray and abandoned cats.
The Corny Cat Hamper
Dreamers' Popcorn Hand Popped All things Sweet & Salty (40g) Ve
Cat Mug
Twentyfour Seven Twist Teas Tea Bag
Summer Berries Twist Teas Tea Bag
Classic Earl Twist Teas Tea Bag
Jocelyn & Co. Cocoa Shortbread (28.35g) V – Rich cocoa cookies with the perfect pinch of salt
Mr Popple's Chocolate Signature Seventy Deep & Indulgent (35g) Ve, GF, Top 14 Allergens Free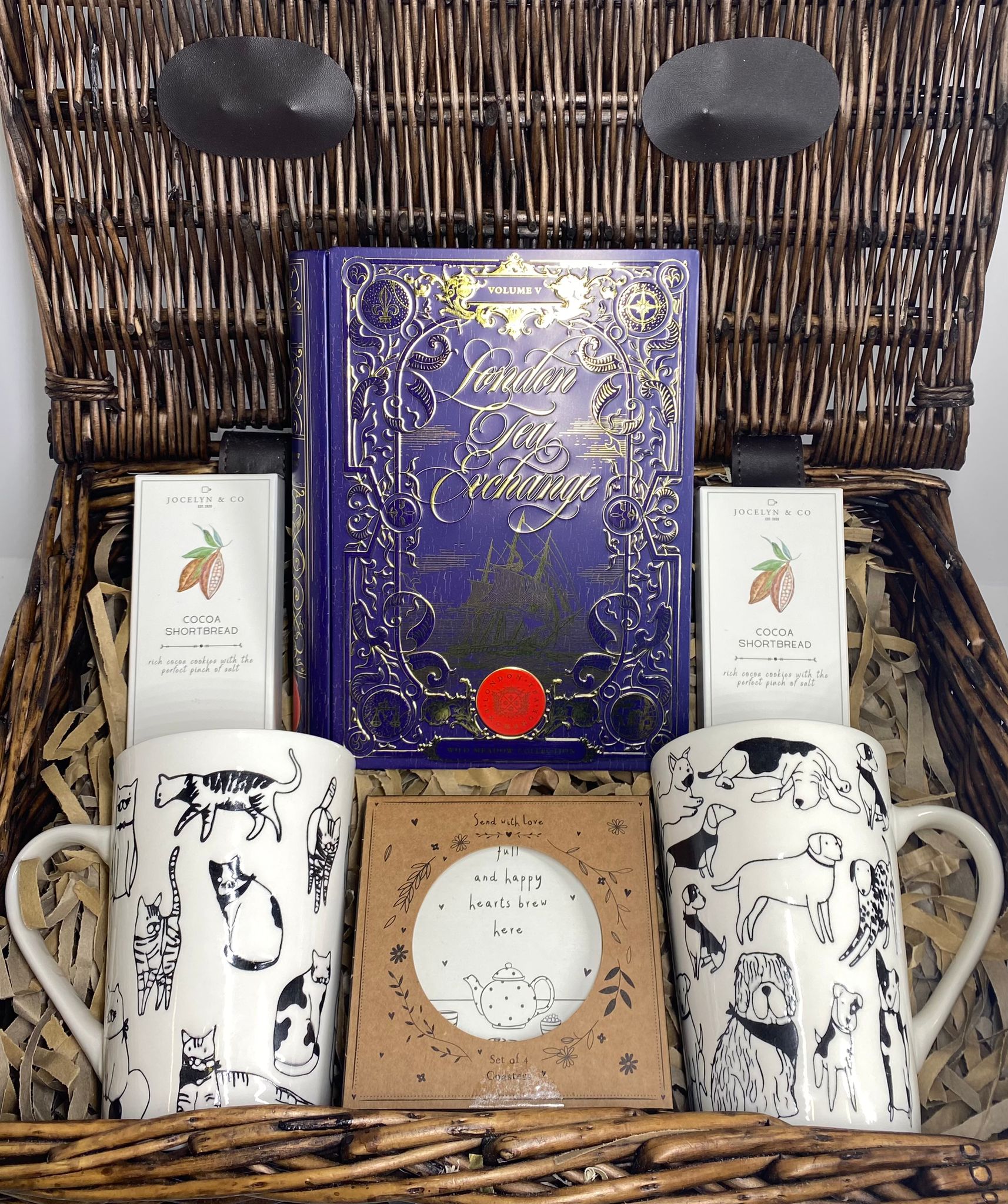 The Bark & Book Teatime Hamper
Perfect for lovers of both cats and dogs:
x2 Jocelyn & Co. Cocoa Shortbread Biscuits
X2 Dog and Cat Themed Ceramic Mugs
Teatime Mug Coasters
Choose one of the following Book Tins:
Classic Collection – Contains 4 Loose Leaf Teas: Premium English Breakfast, Premium Earl Grey, Premium Darjeeling & Premium Ceylon Orange Pekoe.
Royal Collection – Contains 4 Loose Leaf Teas: Premium White Chai, Premium Emperor's Green, Premium Shangri La & Premium Royal Yellow Tea.
Oriental Collection – Contains 4 Loose Leaf Teas: Premium Emperor's Green, Premium Jinxuan Oolong, Premium Milk Oolong, Premium Flower of Asia.
Wild Orchard Collection – Contains 4 Loose Leaf Teas: Premium Sencha Gojiberry, Premium Sencha Aloe Vera, Premium Pink Tropics & Premium Bora Bora.
Wild Meadow Collection – Contains 4 Loose Leaf Teas: Premium Imperial Jasmine, Premium Sencha Aloe Vera, Premium Sencha Sakura & Premium Wild Meadows
Festive Collection – Contains 4 Loose Leaf Teas: Premium White Chai, Premium Chocolate and Coconut, Premium Orange and Cinnamon & Premium Sencha Ginger.