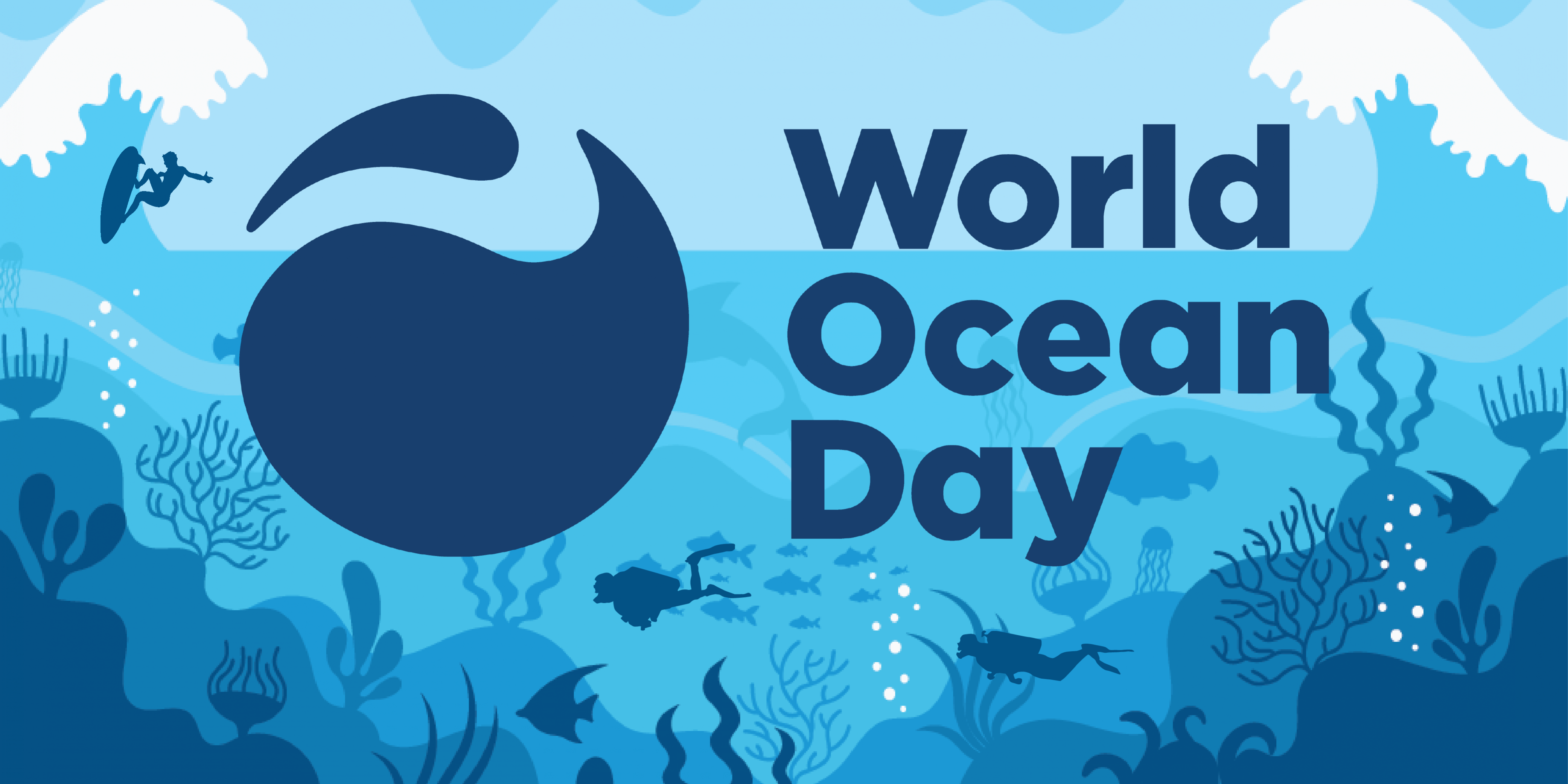 Happy World Ocean Day 2023! Each year, on the 8th of June, World Ocean Day is observed across the globe by countries, governments and many charities. These organisations come together to campaign and raise awareness about our great big blue planet, and how to protect it. World leaders promised at the UN Biodiversity Conference in 2009 to protect 30% of our blue planet by 2030 (30×30). Less than 17% of land and 8% of the ocean worldwide is currently protected by governments across the globe. This year, the theme for World Ocean Day is: 'Planet Ocean: Tides are Changing'. 
Why protect our ocean? The ocean provides the world population with food, income and renewable energy, but also climate regulation. Scientists estimate that approximately 50% of the Earth's oxygen is generated by bacteria, algae and aquatic plants via photosynthesis. However, changes to the ocean because of the climate crisis and pollution have led to these sources of oxygen dying. The ocean is also a beautiful feature of our planet, housing thousands of sea creatures all part of a complex ecosystem- It deserves to be preserved for the many future generations to come. 
Did you know?: The ocean covers over 70% of the Earth's surface. 
Our Ocean Safe Hampers
There are plenty of ways to get involved with World Ocean Day, whether locally or on a national scale. One way to support the protection of our ocean is to buy gifts that support companies who help to remove plastic from marine life, or don't use single-use plastics. By choosing gifts that align with sustainable causes, we can inspire others to make a positive impact with their purchases. Let's celebrate World Ocean Day by gifting with purpose, with sustainable hampers that prevent further marine plastic pollution. To bring attention to World Ocean Day, we've created two hampers that are single-use plastic-free. 
Save the Turtles Hamper
Gunna Turtle Juice Tropical Lemonade (330ml) Ve, GF x2
Plastic-free Scented Soap x2
Mr Popples Chocolate- Creamy Mylk and Uplifting Mint (35g) Ve, GF x2
Turtle Savers Metal Straw
'You are turtle-ly awesome' Charm Bracelet
Homemade Bath Salts
Blue Plastic-Free Hamper
Angelic Plant Based Cookies –(125g) Ve, GF, DF, NF, Top 14 allergens safe
Angelic Rosemary & Sea Salt Savoury Biscuits (142g) Ve, GF, DF, NF, Top 14 allergens safe
Gunna Turtle Juice Tropical Lemonade (330ml) Ve, GF
Hip Pop Blueberry & Ginger Kombucha  (330ml) Ve, GF
X2 Mr Popples Chocolate- Dark Mylk and Uplifting Mint (35g) Ve, GF
Mr Popples Chocolate Creamy Mylk (75g) Ve, GF 
iLove Snacks Fava Crisps Sea Salt & Black Pepper (40g) Ve, GF – Our roasted Fava Crisps are perfectly seasoned with a pinch of sea salt & black pepper to create a moreish plant-based, healthy & sustainable snack. These delicious, wholesome bites are packed full of natural protein & fibre & a healthier alternative to crisps.